Marking on face masks or Personal Safety Devices
---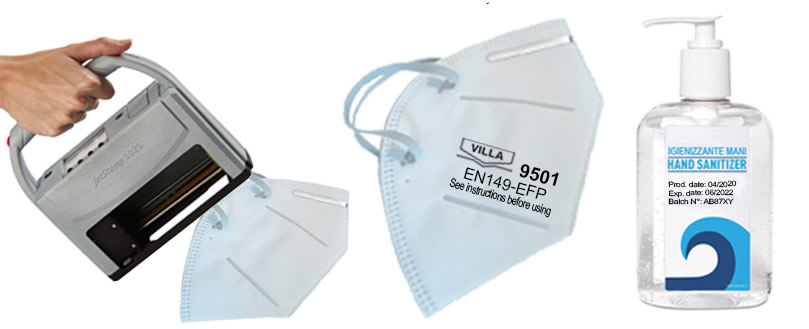 ---
The emergency situation from Covid-19 is leading some types of companies to convert part of the production into the creation of antivirus masks to counter the ongoing emergency. We have always been attentive to market developments and close to the needs of our customers: this is why we offer you the best solutions for inkjet marking of the masks, which require CE marking, medical devices and PPE (Personal Protective Equipment ).
Our coding machines operate mainly in manual and portable mode, but can also be adapted on automatic production lines. These coding systems are also suitable for printing batch code, expiry date and other variable data on cardboard boxes, bottles and packaging in general.
Among the most suitable markers for the purpose, we point out the Jetstamp 1025 Special Edition 2585, which allows you to perform markings in a fast and customizable way on products or documents up to an area of ??25x85 mm.
The electronic marker Jetstamp 970 Special Edition 971 is another of our flagship products that can be useful for the fast coding of sanitary material: it is a mobile inkjet marker that allows you to print graphic elements and bar codes, as well as number, date, time and text.
---