Marking on pallet, the solution is REINER JetStamp 1025
---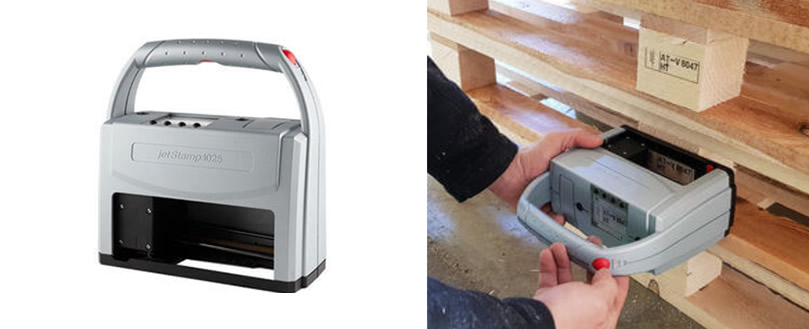 ---
Pallets are the key to safe transportation around the world of logistics. Wood allows transportation and protects different types of goods, ensuring globally applicable standards. Pallets are often exposed to difficult conditions in the transportation of goods and also face other difficulties. Marking is essential to meet the ISPM-15 global standard specifications and to maintain a vision of the countless pallets in standard and special dimensions in circulation. REINER jetStamp 1025 is the key to flawless marking. Before the Special Edition 2585, pallets could only be marked with hot marking systems by moving them on special marking lines. The process was elaborate and expensive. REINER jetStamp 1025 has definitely optimized these operations.
Maximum flexibility
The integrated seal of the print head and the battery operation make REINER jetStamp 1025 particularly flexible and being portable it allows a comfortable transport on the place of use. The pallets no longer need to be elaborately arranged but can remain stacked for marking. This is made even easier because the printing process can be activated by three buttons on the device: two on the sides and one in the center of the handle. The integrated display also shows the print image set to make sure operators always know what they are about to print.
Complete solutions for the industry
REINER marking devices have become even more interesting for the packaging industry. JetStamp 1025 is particularly suitable for printing on small surfaces. This is important when printing pallets. A single cartridge reaches a print height of 25mm, while the 300 dpi print resolution provides a clear image that is perfectly legible even on rough wooden surfaces.
Easy print images
Pallet manufacturers and distributors need a printed image showing the IPPC logo, country and region, as well as a registration number. This can be easily created with the "PCset graphic" software and transferred to the mobile marking device via Bluetooth. Just like creating the print image, the printing process with the battery-powered REINER marking device is quick and easy. IPPC printing takes place directly on wood with inkjet technology. Without the need for cables or a fixed position, the battery can handle up to 1,000 fingerprints per charge. The printing speed
Advantages
• Various options for creating prints thanks to a print height of 25 mm and a single cartridge
• Flexible printing with the two intervention options on the side and on the handle
• Efficient work thanks to mobile printing
• Battery operated for up to 1,000 prints per charge
---